John Thomas Blues and Ragtime Fingerstyle Guitarist

I am a fingerstyle guitar player living in Hamden, in southern Connecticut, and play instrumental acoustic music, mainly blues and ragtime. My influences range from the blues greats of the 1920s and 1930s to Merle Travis, Chet Atkins, and Jerry Reed. My guitar playing is deeply steeped in American roots music of the 19th and early 20th centuries.

Blues, Rags & Beyond...
Playing solo, acoustic music for more than 40 years, my live performances and recordings feature music that ranges from the compositions of classic blues guitarists like Blind Lemon Jefferson and Rev. Gary Davis, to the classic ragtime tunes of Scott Joplin, to the Nashville playing of Chet Atkins and Jerry Reed, and to my original compositions that echo these influences. For many of the blues tunes and rags in my repertoire I have created original arrangements, including adapting ragtime piano pieces to the guitar.
Click here to learn about my recent book, "Kalamazoo Gals: A Story of Extraordinary Women and Gibson's 'Banner' Guitars of WWII."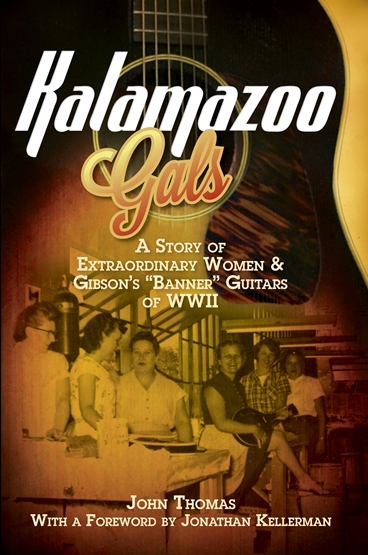 March 2016: Jonathan Kellerman give Kalamazoo Gals a shout out in the Sunday New York Times Book Review: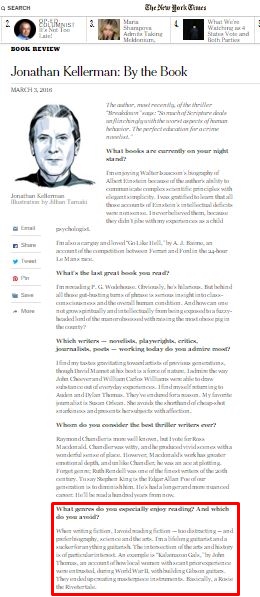 Summer, 2015, the Swedish Public Radio program Pop och Politic (pop and politics) partnered with Swedish public schools to incorporate the story of the Kalamazoo Gals into middle school history books:

Summer, 2014, the BBC aired an hour-long radio documentary about Kalamazoo Gals, narrated by rock icon Suzi Quatro: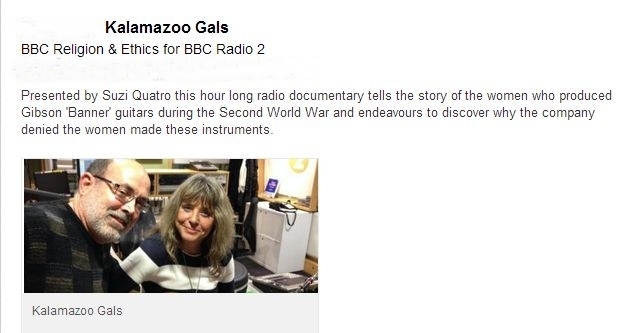 Click here to learn about my touring art show, "Vintage Steel: the Art and History of the American Steel String Guitar."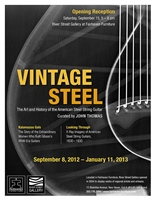 I'm also Field Editor editor and frequent contributor to my favorite magazine, Fretboard Journal. In addition to contributing the quarterly print edition, I have a blog on which I post on time-sensitive topics like concert reviews.
I am serving as executive director for the upcoming film staring Napoleon Dynamite's Jon Heder: Buddy Holly is Alive and Well on Ganymede. Here's a clip:
Finally, I do, indeed, have a day job as law professor at Quinnipiac University School of law.
content ©2013 John Thomas
design ©2013 SWIdeas
All rights reserved.